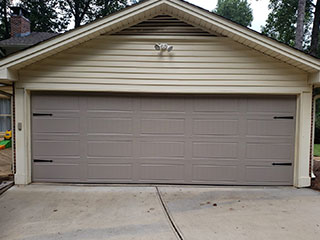 It's natural that you'll want to minimize the risk of getting stuck inside or outside of your garage. The best way to prevent an unpredictable malfunction or breakdown is to take care of your system through a regular maintenance plan. Most overhead doors require an inspection and some kind of maintenance twice a year. Read on for some of the areas we can help you with!
Check The Condition Of Your Springs
It is usually fairly easy to notice damage to the springs - if they've started to lose tension, you may find that your door moves slower than before. If your springs have become particularly worn, the best thing is to organize a replacement before they fail altogether. When this happens, you'll be unable to move your door, meaning the situation will become a lot more urgent. As part of our regular maintenance service, we can check the condition of your springs and make any tension adjustments or further recommendations as necessary.
Caring For Your Hinges & Moving Components
Bent hinges should be fixed or replaced depending on how bad the deformation is. These components may also require tightening too. Missing, broken and damaged bolts should be replaced with new ones right away. The final step involves lubrication. For most doors, spray lubricant with lithium is ideal for this purpose. It allows for a precise application while being resistant to hardening as the temperature goes down. During a maintenance appointment, our team will also ensure all the necessary components are lubricated to protect against rust and corrosion.
Safety Sensor Testing
Our technicians will thoroughly check the safety condition of your sensors and ensure that everything is working as it should be. The test involves placing an object in order to interrupt the infrared beam of the sensors. Any non-valuable solid object will do. If the door continues to close while there is an object in its path, this indicates a likely problem with the sensors or the reversal mechanism which we'll do our best to get to the bottom of.
If it's about time you had your system inspected and your next maintenance appointment scheduled, don't wait any longer. Just give our team a call at Garage Door Repair Fernandina Beach and get your service visit booked in as soon as possible.
Count on our team for:

New Garage Door Keypads

24 Hour Garage Door Service

Garage Door Out of Track

Oil Tempered Torsion Springs