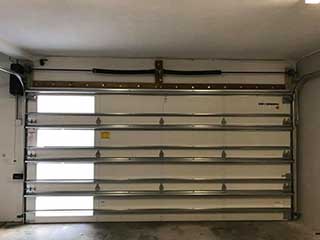 Replacing a garage door spring, either one that's broken or simply worn, can be dangerous, which is why this is one task that should always be left to the experts. While you may consider yourself a DIY enthusiast, that doesn't mean you should take this type of risk. These components are very dangerous, due to the enormous amount of tension they are constantly under. Therefore, they should only be handled by trained technicians.
Maintenance Extends Longevity
In order to keep these units functional for as long as possible, our technicians will be happy to service them for you on a regular basis. We'll examine them to make sure their coils aren't becoming deformed, lubricate them to reduce their wear and adjust their tension if the door fails our balance tests. This will help them last longer, and reduce the chance of them breaking unexpectedly.
The Older Type
Nowadays, there are two different types of garage door springs that your system could be using. The first and older type, consists of a pair of units, each one installed on a different side of the door. These are extension springs, and they work by stretching while the panels lower and contracting when the door is opened. Because of the way they work, they're more likely to whip around when they break, which is why they're often secured with safety cables that help prevent that.
The Newer Option
The relatively newer type are the torsion springs. These units are stronger and more flexible, and it will usually only take a single unit to support the weight of an average sized door. Torsion springs require more headroom space than their extension based counterparts, so although they're stronger, they may not necessarily be suitable for your garage.
Emergency Spring Replacement and More
No matter what type of service you need, if it involves these hardworking components, you can count on our team at Garage Door Repair Fernandina Beach to help you. We've been replacing broken springs and adjusting worn units for a long time, and there's no problem we can't solve. Call us today.
Want more? Let us take care of:

Damaged Parts Replacement

Garage Door Weather Stripping

Commercial Garage Door Repair

Residential Garage Door Repair