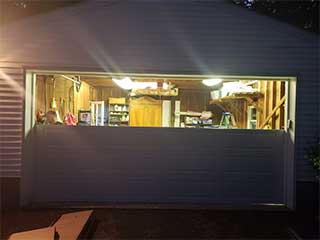 Our expert technicians provide a full range of repair services that cover every single part of your automatic door system. We know how important it is to keep the mechanism functional, as it is something that gets daily usage and can endure a lot of wear and tear. That's why we make it a priority to not only work quickly, but to be efficient and effective, and for our work to be reliable too. From damaged door panels and broken springs to bent tracks and more, there's nothing that our team can't handle. Here are just a few of the common garage door problems that we can help you with.
Broken Lift Cables
A typical garage door can weigh over 150 pounds, and a lot of this weight is supported by the door cables. They can corrode or become frayed, which will make them much weaker than they have to be. If your cables show any of these danger signs we recommend getting them replaced as soon as possible; if they already broke, you can count on us to quickly send an expert over who'll replace the damaged units with new more durable ones.
Weak And Worn Springs
Your door springs are designed with a finite service life in mind. They can last several years, but they'll eventually need to be swapped out for a new set. Our technicians will help you identify the danger signs of a weakening spring, and will carry out the complex replacement job for you. These components are under a lot of tension, and mishandling them can be very dangerous, so you should always opt to leave this type of task to our highly skilled experts.
Opener Circuit Board Problems
The motor unit that powers the movement of your garage door can develop plenty of issues, and one of the hardest problems to track down is when the circuit board itself malfunctions. This can result in all sorts of strange and erratic behavior, or in a completely non-functional opener. Our company works with all of the industry's major brands and we can supply you with high quality replacement boards, and even a completely new opener if that's called for.
Contact Our Team Today
We're always ready to help. Don't hesitate to get in touch with us if you're experiencing issues with any of the system's different parts. Our experts at Garage Door Repair Fernandina Beach can help you with any type of problem, big or small.
We also offer:

Overhead Garage Doors

New Garage Door Remotes

Garage Door Tune Up Services

Bent Garage Door Track Repair